Congratulations Candice Glover, American Idol Season 12!
Tonight, after American Idol Top 2 Kree Harrison and Candice Glover competed for the title, Ryan Seacrest revealed that the winner of season 12 is Candice, who after three tries finally became an American Idol.
Candice tried in 2011 but did not make it. In 2012 she made it through Las Vegas week and was eliminated. This year she earned her crown.
She met and exceeded every challenge that was thrown at her, impressing viewers and her Lowcountry fans with great song choices, interesting arrangements, and a voice that just wouldn't quit.
We are all very proud of what she has done for herself and for her hometown--once again, Beaufort County is on the map and for something exciting and positive.
We watched at the viewing party at The Preserve At Port Royal with a few hundred close friends--and her family--and you can see their reaction on the video below when Ryan announced her as the new American Idol.
Candice, the sky's the limit. We can't wait to see where that unbelievable voice will take you in the years to come. Use it wisely.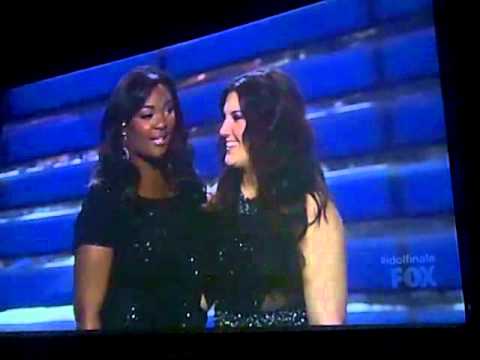 At least now I wasn't lying when I said "I hugged an American Idol!"
If you missed the finale and the six performances of Kree and Candice, here they are
This is the performance that probably clinched the title for Candice, her incredible version of "I (Who Have Nothing)" which she sang back on Top Ten Week. However for this performance during the Idol finale, she gave it a twist that worked:
Kree's first song of the night, Sarah McLaughlin's "Angel," was chosen for her by Idol creator Simon Fuller. Pretty song, but as Randy said, sleepy. She did it well.
Candice was given Adele's first hit single, "Chasing Pavements." Nice job but Randy, you are right, neither song was very challenging.
For round two, the girls sang their "coronation song," the song that would be their first single if they win Idol. For Kree it was "All Cried Out." Good song. But boring.
Candice said she LOVES the song that was given to her: "I Am Beautiful," and yes, she did another excellent job.
The final round, as previously mentioned is a song they already did this season. For Kree, it was a song from Las Vegas Week: "Up To The Mountain." Very very nice.
Congratulations Candice. You worked hard and you deserve the title. You made us all very proud. The Sky Is The Limit.